Hi there,
I'm Ruthie at Arizona Oriental & Specialty Rug Care and every once in a while there's someone who is just h--- bent on cleaning their own rug. Oh, you know how it goes….. They saw something on YouTube! It looked so easy! Well heck, I even saw one guy wash his rug at a car wash!! (My thoughts were REALLY???, Who does that???)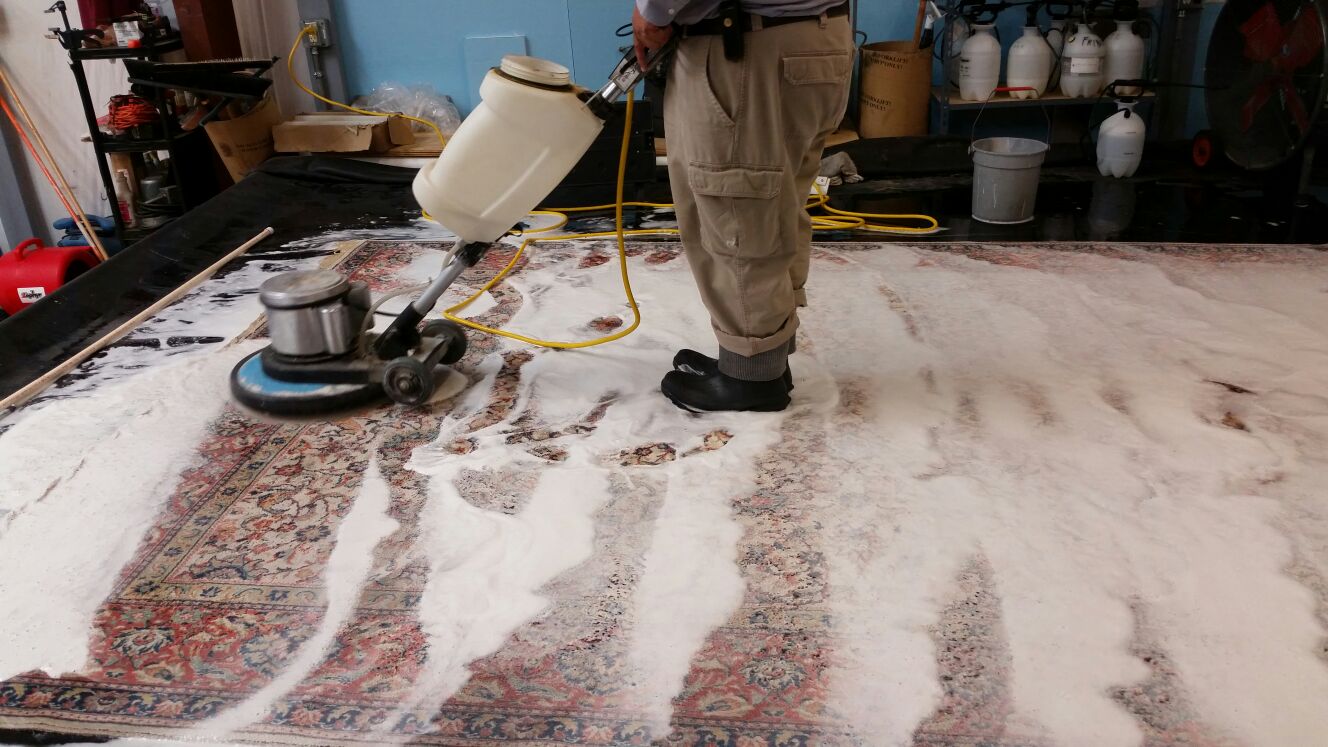 Cleaning a rug yourself might work out for some rugs, buuuut the truth of the matter is most rugs require a professional cleaning or the end results will likely be a rug that is only good for tossing in the trash.
If you like your rug, why would you chance ruining it? Dye Bleed, mold, browning discoloration, pile distortion, shrinkage – Geez I could go on, but I think you're getting the picture.
This video shows only a small portion of the steps that are necessary to properly clean rugs. It can take several hours to clean a big rug and time does not allow us to show the entire process. But I do hope you now have a little better understanding of the cleaning process of an area rug and I know folks love seeing this part of the cleaning which is why I generally show this cleaning step in my videos that I post.
At Arizona Oriental & Specialty Rug Care we pride ourselves on offering our clients the best care possible. My advice is to STOP THINKING YOU CAN JUST HOSE OFF YOUR RUG! LEAVE IT TO A PROFESSIONAL,YOUR RUG WILL LOVE YOU FOR IT AND YOU WILL LOVE YOUR RUG ONCE IT IS CLEANED PROPERLY.
Till next time, enjoy your beautiful art for your floors and remember a clean rug is a rug that can last you a lifetime!
Arizona Oriental & Specialty Rug Care serves Prescott, Prescott Valley, Sedona, and much of the Northern Arizona areas. We meet the highest standards in professional cleaning of area rugs with rug wash specialists having earned the highest training, including certification as WOOLSAFE FIBRE CARE SPECIALISTS through the WOOLSAFE ORGANISATION. Such extraordinary certification ensures the area rugs of our client's receive the utmost in care.
Call us for more information on Why Cleaning Your Own Rug Is a Bad Idea! at 928-445-1718, visit our website at www.ArizonaOriental.com, or stop by Monday through Friday 10:00 am to 4:00 pm at our rug washing facility at 565 EZ Street, Prescott, AZ 86301 (pick-up and delivery also available).
https://youtu.be/L8NqZ2u6V5U