Older, hand-knotted area rugs are some of my favorite pieces to admire. They bring so much pleasure to the eye since every antique carpet has a fascinating history. White knots distinguish nearly all rugs made by hand.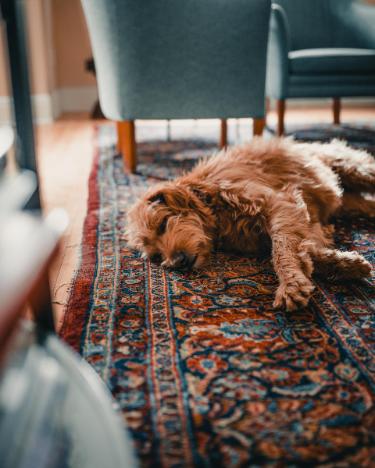 Hi there! It's Ruthie with Arizona Oriental & Specialty Rug Care from Prescott, AZ.
Where Do White Knots Come From, And What Causes Them?
Hand-knotted rugs have a foundation made up of white knots. Cotton warp (which runs vertically) and weft (which runs horizontally) threads are stretched across a loom to create a rug's base. Weavers then attach the threads to the face fibers.
Some of these strands often become untied throughout the weaving process and require the weaver's attention to re-knot. White knots appear because of these fixes to the primary strands.
As the rug ages and the pile wears down, the knots hidden between the face strands of the rug become more visible. Age gives character, beauty, and history to your hand-knotted rug, and it's completely normal! It has been dubbed "rug freckles" by others.
Prescott Rug Cleaner Explains What You Don't Do With White Knots
Sometimes dirt will cover these white knots, making them virtually invisible until the rug is cleansed. After a good cleaning, the knots stand out. White knots are NEVER to be snipped off! This causes a hole in the rug's foundation, which causes the face fibers to unravel and fall out.
If your rug needs some maintenance, you can count on Arizona Oriental to offer you various repair options.
If you need a pleasant, thorough cleaning or repairs done on your rug, call us.
Searching for Rug Washing and Repair in Prescott, Arizona
To get the process going, if you want to seize the opportunity, you can contact Arizona Oriental & Specialty Rug Care in Prescott or fill in the compact form here for a direct reply from our rug cleaning experts.
We can offer help and advice on all things to do with rugs, old or new.
You can also check out our customer reviews from Birdeye and Yellow Pages
Arizona Oriental & Specialty Rug Care serves Prescott, Prescott, and other Northern Arizona areas. We meet the highest standards in professional cleaning of area rugs, with rug wash specialists having earned the highest training, including certification as WOOL SAFE FIBRE CARE SPECIALISTS through the WOOL SAFE ORGANIZATION. Such extraordinary certification ensures our client's area rugs receive the highest quality care.
Call us for more information on having rugs spot cleaned at 928-445-1718, visit our website at www.ArizonaOriental.com, or stop by Monday through Friday 10:00 am 4:00 pm washing facility at 565 EZ Street, Prescott, AZ 86301 (pickup and delivery also available). 07-14-2020

Fill In For A Quick Response