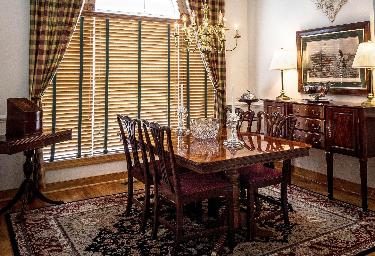 When it comes to preserving the beauty and longevity of your cherished rugs, there's no one better to turn to than the experts at Arizona Oriental. With years of experience in rug cleaning, we've gathered invaluable insights into maintaining the pristine condition of your rugs. Here are the top three rug cleaning tips from Prescott's most trusted professionals:
1. Regular vacuuming is key.
Dirt, dust, and debris can accumulate quickly on your rugs, leading to premature wear and tear. To prevent this, make sure to vacuum your rugs regularly. Use a vacuum cleaner with adjustable settings and a brush or beater bar that won't damage delicate fibers. Aim to vacuum at least once a week, more often in high-traffic areas.
2. Blot, don't rub, and spills
Accidents happen, and when they do, it's important to address spills promptly. The key here is to blot the spill with a clean, white cloth or paper towel rather than rubbing it. Rubbing can spread the stain and damage the rug's fibers. Work from the outer edges of the stain toward the center to avoid making it larger. If the spill is substantial or stubborn, it's best to call in professional rug cleaners like Arizona Oriental for expert stain removal.
3. Rotate your rugs.
To ensure even wear and fading, rotate your rugs periodically. Rugs placed in high-traffic areas or exposed to direct sunlight may show signs of wear more quickly. By rotating your rugs every six months to a year, you can help distribute the wear and maintain their appearance for longer.
Trust Arizona Oriental for all your rug cleaning needs.
Prescott's most trusted rug cleaning professionals at Arizona Oriental are here to help you maintain the beauty and quality of your rugs. Whether you have Oriental rugs, area rugs, or any other type of rug, our team has the knowledge and expertise to keep them looking their best.
Contact Arizona Oriental today.
For professional rug cleaning services and more expert advice, contact Arizona Oriental. Let us be your go-to source for rug care in Prescott and experience the difference that our dedicated professionals can make in preserving the beauty of your rugs.
When it comes to rug cleaning, trust Prescott's top professionals at Arizona Oriental.
Contact us now and experience the exceptional rug cleaning services we offer in Prescott, AZ. Trust the professionals at Arizona Oriental & Specialty Rug Care to deliver impeccable results every time.
Trust the experts at Arizona Oriental & Specialty Rug Care to handle your rug cleaning needs in Prescott, AZ.
You can also check out our customer reviews from Birdeye and Yellow Pages.
Arizona Oriental & Specialty Rug Care serves Prescott, Prescott Valley, Sedona, Flagstaff, and many Northern Arizona areas. We meet the highest standards in professional cleaning of area rugs, with rug wash specialists having earned the highest training, including certification as WOOL SAFE FIBRE CARE SPECIALISTS through the WOOLSAFE ORGANISATION. Such extraordinary certification ensures our clients area rugs receive the highest quality care.
Call us for more information on area rug vacuuming tips and tricks at 928-445-1718, visit our website at www.ArizonaOriental.com, or stop by Monday through Friday from 10:00 am to 4:00 pm at our rug washing facility at 565 EZ Street, Prescott, AZ 86301 (pickup and delivery also available).

Fill in for a fast response