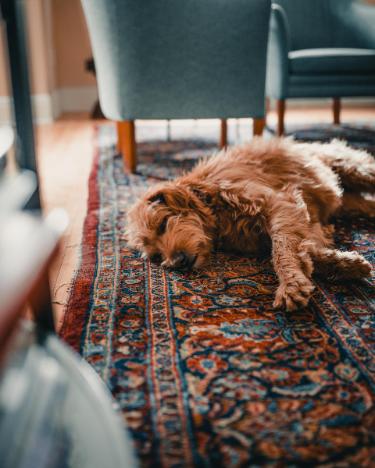 Are you tired of looking at your dirty area rug but don't know where to start with cleaning it? Arizona Oriental, the premier rug cleaning company in Prescott Valley, AZ, is here to help with some tips in between professional cleanings.
Hi, folks! Ruthie here with Arizona Oriental & Specialty Rug Care in Prescott, AZ, and I want to discuss a common query.
Your area rug is exposed to dust, dirt, pet hair, and spills daily. Over time, these elements accumulate and can cause damage to the rug's fibers.
The buildup of these elements can also lead to allergies, respiratory problems, and other health issues. Cleaning your area rug regularly can prevent these problems from occurring.
Don't let your jute rug's value lower. Contact Arizona Oriental in Prescott Valley, AZ, today for a thorough and professional cleaning.
How Often Should You Clean Your Area Rug?
The frequency of cleaning your area rug depends on the foot traffic it receives. If your rug is located in a high-traffic area, it should be cleaned every 6-12 months. However, if your area rug is located in a low-traffic area, it can be cleaned every 2-3 years.
DIY Cleaning Techniques for In-Between Pro Area Rug Cleaning
There are various DIY techniques for cleaning your area rug. However, it is essential to note that improper cleaning techniques can damage your rug. Here are some effective DIY cleaning techniques that you can use for your area rug:
Vacuuming
Vacuuming your area rug is an effective way to remove dust and dirt. It is essential to use a vacuum cleaner with a power brush or beater bar to remove embedded dirt.
Spot Cleaning
If you spill something on your area rug, cleaning it up as soon as possible is essential to prevent it from setting. You can use a mixture of water and dish soap to clean the spill.
Professional Area Rug Cleaning With Arizona Oriental
Professional area rug cleaning is the most effective way to clean your area rug. Arizona Oriental provides expert area rug cleaning services in Prescott Valley, AZ.
Our team of professionals has the knowledge and experience to handle any area rug. We use safe and effective cleaning methods to ensure that your area rug is clean and free of damage.
Arizona Oriental in Prescott Valley, AZ, is the best choice for expert area rug cleaning. Contact us today to schedule your area rug cleaning and experience the difference.
Contact Arizona Oriental in Prescott Valley, AZ, today to schedule your expert area rug cleaning and experience the difference.
You can also check out our customer reviews from Birdeye and Yellow Pages
Arizona Oriental & Specialty Rug Care serves Prescott, Prescott Valley, and many Northern Arizona areas. We meet the highest standards in professional cleaning of area rugs, with rug wash specialists having earned the highest training, including certification as WOOL SAFE FIBRE CARE SPECIALISTS through the WOOLSAFE ORGANISATION. Such extraordinary certification ensures our client's area rugs receive the highest quality care.
Call us for more information on area rug vacuuming tips and tricks at 928-445-1718, visit our website at www.ArizonaOriental.com, or stop by Monday through Friday from 10:00 am to 4:00 pm at our rug washing facility at 565 EZ Street, Prescott, AZ 86301 (pickup and delivery also available).

Fill In For A Quick Response