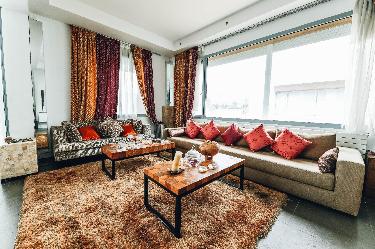 Are you ready to give your area rug in Prescott the royal treatment?
Before you make any decisions, let us enlighten you. At Arizona Oriental, we take immense pride in our proper and thorough rug cleaning process. We understand that each rug is unique and requires special attention. That's why we inspect every rug before cleaning and tailor our approach accordingly.
When you choose Arizona Oriental, you can be confident you've chosen the best rug cleaning service in town.
The Importance of Professional Area Rug Cleaning
Hiring a professional for their cleaning is essential to maintain the longevity and beauty of your area rugs. Area rug cleaning requires expertise and specialized knowledge to ensure your rugs are cleaned thoroughly and effectively.
An expert rug cleaning service like Arizona Oriental knows the intricacies of different rug materials and understands the appropriate cleaning methods for each type. By entrusting your rugs to a professional area rug cleaning company, you can rest assured that they'll be handled with care and attention to detail.
Whether you have delicate Oriental rugs or durable area rugs, expert rug cleaning services will use the right techniques and products to remove dirt, stains, and odors, causing no damage. Don't risk ruining your beautiful rugs by attempting to clean them yourself.
Instead, rely on the expertise of a professional area rug cleaner for impeccable results.
The Benefits of Choosing Arizona Oriental and Specialty Rug Care Services
By choosing Arizona Oriental and Specialty Rug Care Services, you can ensure your area rugs will receive the highest care and attention. As an oriental rug cleaning company, we specialize in providing expert rug cleaning services for all area rugs.
Our highly trained professionals are skilled in rug cleaning and have earned WOOLSAFE FIBRE CARE SPECIALISTS certification. This certification guarantees your rugs will receive the utmost care and attention during cleaning.
We also offer various specialty rug care services, including repair and restoration, to ensure your rugs are restored to their original beauty.
Regarding the total care of your fine area rugs, Arizona Oriental is a trustworthy rug cleaning company.
Rug Cleaning in Prescott, Arizona, Oriental is The Choice
Regarding area rug cleaning in Prescott, Arizona, Oriental is the clear choice. With their extensive training and certification as WOOLSAFE FIBRE CARE SPECIALISTS, they guarantee the utmost care for your rugs.
Not only do they provide expert cleaning services, but they also offer various repair and restoration services.
Contact us now and experience the exceptional rug cleaning services we offer in Prescott, AZ. Trust the professionals at Arizona Oriental & Specialty Rug Care to deliver impeccable results every time.
Trust the experts at Arizona Oriental & Specialty Rug Care to handle your rug cleaning needs in Prescott, AZ.
You can also check out our customer reviews from Birdeye and Yellow Pages.
Call us for more information on area rug vacuuming tips and tricks at 928-445-1718, visit our website at www.ArizonaOriental.com, or stop by Monday through Friday from 10:00 a.m. to 4:00 p.m. at our rug washing facility at 565 EZ Street, Prescott, AZ 86301 (pickup and delivery are also available).

Fill in for a fast response