Are you considering cleaning your precious Oriental rugs yourself? Think twice! While DIY projects can be tempting, it's essential to understand the risks involved in cleaning your valuable area rugs.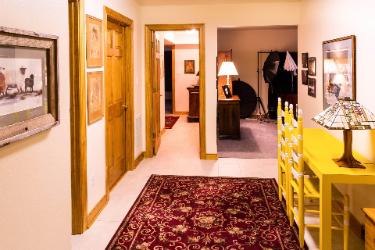 Hi there! It's Ruthie with Arizona Oriental & Specialty Rug Care.
At Arizona Oriental in Prescott Valley, AZ, we specialize in professional area rug cleaning services, and we're here to explain why entrusting your rugs to experts is the best decision you can make.
One of the significant risks of DIY rug cleaning is the inadequate removal of dirt, dust, and allergens. Ordinary vacuuming and surface cleaning methods may not be enough to eliminate the deeply embedded dirt and allergens that accumulate.
Arizona Oriental's professional area rug cleaning services use advanced techniques and equipment to thoroughly remove these contaminants, ensuring a clean and healthy environment for you and your family.
Another common mistake in DIY rug cleaning is improper cleaning solutions and methods. Different Oriental rugs require specific cleaning approaches to preserve their quality and appearance.
Using the wrong cleaning agents or techniques can lead to discoloration, shrinkage, or irreversible damage. Our knowledgeable team at Arizona Oriental is trained in handling various types of area rugs and employs gentle yet effective cleaning methods tailored to each rug's unique characteristics.
The Benefits of Professional Area Rug Cleaning by Arizona Oriental
By choosing Arizona Oriental for your area rug cleaning needs, you reap many benefits that DIY methods simply can't match.
Our experienced professionals understand the intricacies of Oriental rug cleaning and provide exceptional service.
One of the primary advantages of professional rug cleaning is the thorough removal of dirt, stains, and odors.
Arizona Oriental uses specialized equipment and eco-friendly cleaning solutions to penetrate deep into the rug fibers, effectively lifting dirt, pet dander, stains, and unpleasant odors. Our meticulous cleaning process restores the rug's beauty and freshness, extending its lifespan and preserving its value.
Our professional area rug cleaning services incorporate proper drying techniques. Excessive moisture or improper drying methods can cause mold and mildew growth, causing irreversible damage to your rugs. Arizona Oriental ensures your rugs are thoroughly dried, minimizing the risk of mold and preserving their integrity.
Contact Arizona Oriental for a Free Consultation
Ready to experience the exceptional results of professional area rug cleaning? Contact Arizona Oriental today for a free consultation, and let us handle your precious Oriental rugs with the utmost care and expertise.
To schedule your appointment or learn more about our services, our friendly and knowledgeable team is here to answer all your questions and provide expert advice tailored to your area rug cleaning needs.
Remember, regarding preserving the beauty and value of your Oriental rugs, entrust the professionals at Arizona Oriental in Prescott Valley. Contact us today, and let us restore the cleanliness and allure of your area rugs while ensuring their longevity and beauty for years to come.
Alternatively, fill in the compact form here for a direct reply. You can also check out our customer reviews from Birdeye and Yellow Pages
Arizona Oriental & Specialty Rug Care serves Prescott, Prescott, AZ, Sedona, Flagstaff, and much of Northern Arizona. We meet the highest standards in professional cleaning of area rugs. We use rug wash specialists who have earned the highest training, including certification as WOOLSAFE FIBRE CARE SPECIALISTS through the WOOLSAFE ORGANIZATION. Such extraordinary certification ensures our client's area rugs receive the highest quality care.
For more information on area rug cleaning at 928-445-1718, visit our website at www.ArizonaOriental.com. You can even stop by Monday through Friday from 10:00 am to 4:00 pm at our rug washing facility at 565 EZ Street, Prescott, AZ 86301. (pickup and delivery are also available).

Fill in for a Direct Response