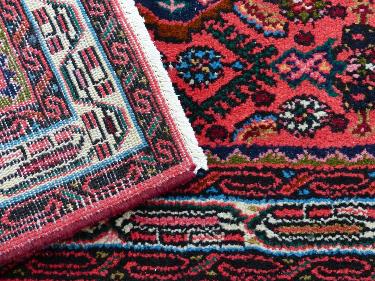 Your exquisite Oriental rugs are more than just floor coverings; they're works of art that deserve the utmost care. Over time, foot traffic, dirt, and environmental factors can dull their vibrancy. But fear not, for Arizona Oriental in Prescott, AZ, is your partner in protecting and renewing the beauty of your prized rugs through their specialized Oriental rug cleaning services.
Preserve the Beauty of Your investment.
Did you know that Oriental rugs are often passed down through generations, becoming cherished family heirlooms? These rugs are woven with history, culture, and craftsmanship, making them invaluable treasures. However, their intricate fibers can trap dirt, dust, and allergens, gradually diminishing their visual allure. Protecting your investment means more than preserving their aesthetic; it's about upholding their legacy.
Prescott's Trusted Oriental Rug Cleaning Experts
When it comes to Oriental rug cleaning services in Prescott, Arizona, Oriental is a name synonymous with trust and expertise. With years of experience and a genuine passion for restoring the splendor of these rugs, they have earned their reputation as the go-to experts in the community. The team at Arizona Oriental recognizes that each Oriental rug is unique and deserving of personalized attention. Their fusion of traditional techniques and modern knowledge ensures your rugs receive unmatched care.
Renew the Essence of Your Rugs
The process of Oriental rug cleaning is an art in itself. Arizona Oriental's experts possess an in-depth understanding of various rug types, colors, and materials. Their meticulous approach is designed not only to cleanse but also to renew the essence of your rugs. From intricate patterns to vibrant hues, their Oriental rug cleaning services can breathe new life into your rugs, allowing them to shine once again.
Preserving Your Legacy and Comfort
Oriental rugs are not just decorations; they're part of your home's identity and offer comfort underfoot. Regular professional cleaning ensures they remain beautiful and durable for years to come. Arizona Oriental recommends scheduling Oriental rug cleaning at least once a year, or more often if the rug is placed in a high-traffic area. This proactive approach prevents dirt from embedding deep within the fibers and helps maintain the rug's integrity.
The Arizona Oriental Difference
What sets Arizona Oriental apart is their unwavering commitment to excellence. Their team is dedicated to delivering results that exceed expectations. Equipped with advanced equipment and an unparalleled understanding of Oriental rugs, they can tackle even the most stubborn stains and restore colors to their former brilliance. With Arizona Oriental, you're not just cleaning a rug; you're rejuvenating a masterpiece.
Renew and Protect today.
Imagine your Oriental rugs being transformed—their colors rejuvenated, their fibers revitalized. Arizona Oriental can make this a reality. Their Oriental rug cleaning services are designed to protect and renew your rugs, ensuring they continue to add charm to your living spaces for years to come.
Ready to Begin the Renewal Process?
If your Oriental rugs are in need of protection and renewal, don't hesitate. Reach out to Arizona Oriental in Prescott, AZ, and let their expertise safeguard the beauty and legacy of your rugs. Your rugs deserve the finest care, and Arizona Oriental is dedicated to providing just that. Contact us now and experience the exceptional rug cleaning services we offer in Prescott, AZ. Trust the professionals at Arizona Oriental & Specialty Rug Care to deliver impeccable results every time.
Trust the experts at Arizona Oriental & Specialty Rug Care to handle your rug cleaning needs in Prescott, AZ.
You can also check out our customer reviews from Birdeye and Yellow Pages.
Arizona Oriental & Specialty Rug Care serves Prescott, Prescott Valley, Sedona, Flagstaff, and many Northern Arizona areas. We meet the highest standards in professional cleaning of area rugs, with rug wash specialists having earned the highest training, including certification as WOOL SAFE FIBRE CARE SPECIALISTS through the WOOLSAFE ORGANISATION. Such extraordinary certification ensures our client's area rugs receive the highest quality care.
Call us for more information on area rug vacuuming tips and tricks at 928-445-1718, visit our website at www.ArizonaOriental.com, or stop by Monday through Friday from 10:00 am to 4:00 pm at our rug washing facility at 565 EZ Street, Prescott, AZ 86301 (pickup and delivery also available).

Fill in for a Direct Response