Oriental rugs and pets don't mix very well. However, you don't have to choose between your love for these sumptuous rugs and your beloved pet. Thanks to the techniques described below, you can eliminate pesky stains left by your pet on your precious rug.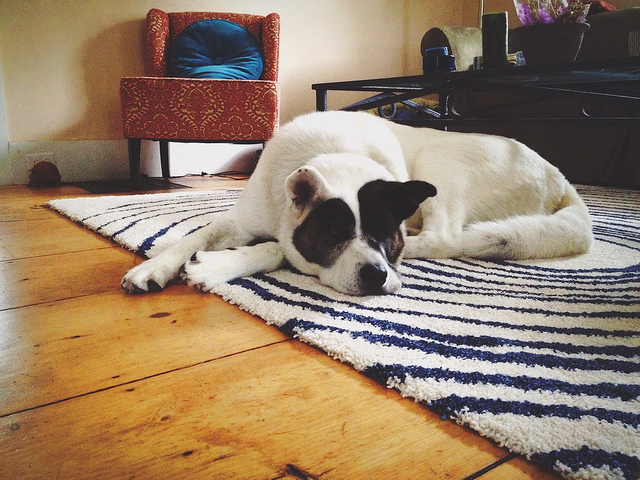 Ruthie here from Arizona Oriental & Specialty Rug Care in beautiful Prescott, AZ.
Before DIY Rug Cleaning
Before cleaning your oriental rug, check the label. Specific instructions on how to clean the carpet without harming it should be included on the label.
Oriental rugs are typically made from silk, wool, cotton, or synthetic materials. Each material needs a specific cleaning technique.
Be aware that no material is entirely impervious to lasting damage from a pet accident, even though cotton and wool fibers are more durable and convenient to clean than silk fibers. Any cleaning comes with the recommendation of using expert rug cleaners and rug cleaning techniques from Arizona Oriental.
Methods for Rug Pet Stain Removal
Warm Water Can Help
You don't need to employ a sophisticated technique to clean pet messes from your exquisite oriental rug.
The safest, most practical, and least expensive method is to blot the stain as soon as possible with paper towels (or white cloth towels) and warm water.
After that, gently dab the area without rubbing it to prevent setting the stain in the carpet's fibers.
Rubbing causes the stain—especially vomit or urine—to sink deeper into the fiber, making removal more difficult. Even after cleaning, you may need Prescott rug cleaning experts to remove odors and dry rot deep within your rug fibers.
Vinegar, Water, and Detergent Alternatives
Make a cleaning solution in advance to get rid of tough pet stains. In a bucket, combine 2 cups of room temperature water, 1/2 teaspoon of liquid dish detergent, and 4 tablespoons of white vinegar.
A small amount of the mixture should be poured on the stain and dabbed there gently without rubbing. The vinegar's acidity will keep the rug from fading and help eliminate unpleasant odors.
Most often, using this on rugs leaves you with clean areas. However, it takes a Prescott rug cleaning expert to make your rug all one color.
Call a Prescott Rug Cleaning Professional
You'll need to contact a licensed Prescott rug cleaning professional if the techniques above fail or the stains are difficult to remove.
Our experts have experience cleaning this kind of rug and use the proper procedures to prevent material damage.
The majority employ unique solutions created with enzymes and other substances.
Pet stains are a common issue, and the best way to deal with them is by hiring expert rug cleaners, who are the most effective and reliable.
If you search for professional rug cleaning and repair, contact Arizona Oriental & Specialty Rug Care in Prescott or fill in the compact form here for a direct reply.
You can also check out our customer reviews from Birdeye and Yellow Pages
Arizona Oriental & Specialty Rug Care serves Prescott, Prescott Valley, Sedona, Flagstaff, and much of Northern Arizona. We meet the highest standards in professional cleaning of area rugs, with rug wash specialists having earned the highest training, including certification as WOOLSAFE FIBRE CARE SPECIALISTS through the WOOLSAFE ORGANIZATION. Such extraordinary certification ensures our client's area rugs receive the highest quality care.
Call us for more information on area rug repair tips and tricks at 928-445-1718, visit our website at www.ArizonaOriental.com, or stop by Monday through Friday from 10:00 am to 4:00 pm at our rug washing facility at 565 EZ Street, Prescott, AZ 86301 (pickup and delivery also available). 07-14-2020

Fill in for a fast response