Expert rug cleaning may be required if your rugs get doused in water. Area rugs with no foam backing that have been soaked by accident or flood and dried rapidly can often be washed and disinfected successfully. You must get your rug examined within 48 hours to ensure that it is completely protected.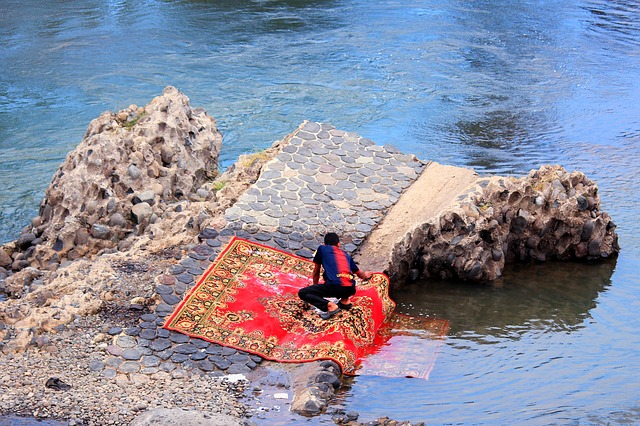 Hi there, It's Ruthie at Arizona Oriental & Specialty Rug Care in Prescott.
Time is of importance with area rugs and water damage. When rugs stay wet for an extended period, it is more likely to become irreversibly damaged. Dry rot or color bleed can occur in rugs that have been soaked for an extended period.
If your rug has a delamination backing, it could fall apart from there. Call an area rug cleaning service in Prescott to assist you to salvage your rug before this happens.
What Will Happen With A Wet Rug?
Another issue is that, whether repaired or it isn't, rugs appear to discolor and take on a brownish color.
Mold growth is, of course, a possibility, and the longer the rug remains wet, the more probable it is to grow mold. Before any mold or germs can develop, your rug will need to be cleaned and dried by an area rug cleaning specialist.
Worse, when your damp rug is from toilet water, it is full of bacteria while appearing clean. Even though your rug is dry, it is critical to deal with harmful bacteria as quickly as possible because they could make your family sick.
Where To Save a Soaked Rug in Prescott, AZ
We have processes in place at Arizona Oriental & Specialty Rug Care in Prescott, AZ, to clean rugs that have been accidentally soaked by water. If your rug is already damp when we come at your home, we will remove as much standing water as possible and carry the rug to our facility in a plastic bag.
We will immediately begin disinfection and drying procedures. Again, time is of the essence here, so don't delay in contacting Arizona Oriental if your area rug has been wrecked by the water.
If you need a fast response for a wet area rug, you can contact Arizona Oriental & Specialty Rug Care in Prescott or fill in the compact form here for a direct reply.
You can also check out our customer reviews from Birdeye and Yellow Pages
Call us for more information on area rug cleaning estimates at 928-445-1718, visit our website at www.ArizonaOriental.com, or stop by Monday through Friday from 10:00 am to 4:00 pm rug-washing facility 565 EZ Street, Prescott, AZ 86301 (pickup and delivery also available). 07-14-2020
Arizona Oriental & Specialty Rug Care serves Prescott, Prescott Valley, Sedona, Flagstaff, and much of the Northern Arizona areas. We meet the highest standards in professional cleaning of area rugs with rug wash specialists having earned the highest training, including certification as WOOLSAFE FIBRE CARE SPECIALISTS through the WOOLSAFE ORGANIZATION. Such extraordinary certification ensures our client's area rugs receive the highest quality care.

Fill in for a fast response