Did you know that identifying the difference between a stain and a spot on your oriental rug can significantly impact your cleaning approach?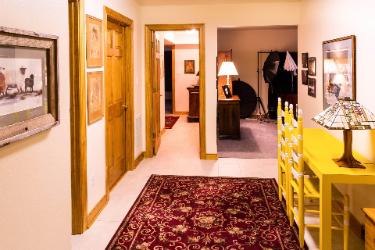 Hi, It's Ruthie from Arizona Oriental & Specialty Rug Care in Prescott, AZ.
Arizona Oriental, your trusted rug cleaning company in Prescott, is here to help you understand this distinction and provide expert solutions for both.
This article explains the dissimilarity between a stain and a spot and offers essential tips for effective rug cleaning and maintenance.
Stains vs Spots: Understanding the Contrast
Stains
Stains are discolorations caused by the penetration of liquids, oils, or other substances into the rug's fibers. Common culprits include spilled beverages, pet accidents, or even tracking in mud from the outdoors. Stains are particularly problematic as they alter the rug's color, texture, and appearance.
Spots
Spots, conversely, are surface-level blemishes caused by substances that sit on top of the rug without penetrating the fibers. These can include dust, dry food particles, or debris accumulating on the rug's surface over time. Unlike stains, spots don't alter the rug's original color or texture.
Effective Cleaning Strategies
Addressing Spots
For spots, regular vacuuming is your first line of defence. Use a high-quality vacuum cleaner with adjustable settings to gently remove debris from the rug's surface. It's essential to vacuum at least once a week, especially in high-traffic areas, to prevent spots from turning into stubborn stains.
Tackling Stains
Stains require more intensive cleaning methods. It's crucial to act quickly to minimize the damage. Start by gently blotting the stain with a clean, absorbent cloth or paper towel to soak up as much liquid as possible. Avoid rubbing the stain, as it can spread discoloration and damage the fibers.
Next, apply a mild cleaning solution to the stain, testing it on a small, inconspicuous area first to ensure it doesn't cause any color bleeding or damage. Blot the stain with the solution, and repeat until the stain starts to fade. For more stubborn stains or delicate rugs, it's best to seek professional help from Arizona Oriental in Prescott, AZ.
Professional Rug Cleaning
Professional rug cleaning services can make a significant difference when it comes to dealing with stains and spots effectively. Arizona Oriental in Prescott has the expertise, tools, and eco-friendly cleaning solutions to tackle even the toughest stains without causing harm to your precious oriental rugs.
Maintaining Your Oriental Rugs
Regular Inspections
To ensure your oriental rugs stay in top condition, regularly inspect them for spots, stains, or any signs of wear and tear. Catching issues early can prevent permanent damage and save you from costly repairs or replacements.
Professional Cleaning Routine
Create a schedule for professional rug cleaning with Arizona Oriental to ensure your rugs receive the care they deserve. Regular cleaning removes spots and stains and extends the life of your oriental rugs.
Where To Find Pro Rug Cleaning
Knowing the difference between a stain and a spot is crucial for effective oriental rug cleaning. By understanding the contrast and following the tips provided, you can maintain the beauty and longevity of your precious rugs.
Remember, for the best results and to tackle stubborn stains, rely on the expertise of Arizona Oriental in Prescott, AZ. Contact us now and experience the exceptional rug cleaning services we offer in Prescott, AZ. Trust the professionals at Arizona Oriental & Specialty Rug Care to deliver impeccable results every time.
Trust the experts at Arizona Oriental & Specialty Rug Care to handle your rug cleaning needs in Prescott, AZ.
You can also check out our customer reviews from Birdeye and Yellow Pages.
Arizona Oriental & Specialty Rug Care serves Prescott, Prescott Valley, Sedona, Flagstaff, and many Northern Arizona areas. We meet the highest standards in professional cleaning of area rugs, with rug wash specialists having earned the highest training, including certification as WOOL SAFE FIBRE CARE SPECIALISTS through the WOOLSAFE ORGANISATION. Such extraordinary certification ensures our client's area rugs receive the highest quality care.
Call us for more information on area rug vacuuming tips and tricks at 928-445-1718, visit our website at www.ArizonaOriental.com, or stop by Monday through Friday from 10:00 am to 4:00 pm at our rug washing facility at 565 EZ Street, Prescott, AZ 86301 (pickup and delivery also available).

Fill in for a fast response