If your area rug is drenched because of plumbing problems, a leaky roof, putting out a fire, or anything else, you must do what you can to deal with it.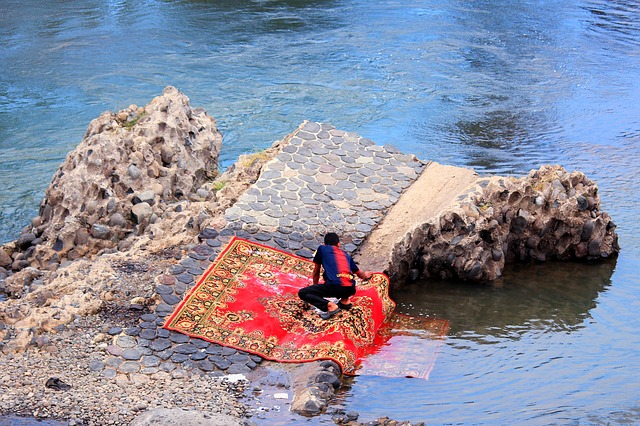 Hi, folks! Ruthie with Arizona Oriental & Specialty Rug Care here in Prescott, AZ.
Even though the water and the rug are dirty, the rug will probably be your top priority. One thing to know is that you may need a Prescott Valley area rug cleaner because mold can grow within 48 hours.
Here's what to try before you decide to call Arizona Oriental.
1. However, if the floor has been soaked, it is best to remove the area rug so that the floor beneath can dry out. Never let a wet area rug sit on the floor for an extended period, as this will harm the rug and the floor underneath.
2. Move the rug to a concrete patio, a wooden deck, or even the sidewalk, if possible. Use a squeegee with a long handle to squeegee out the water while pushing toward the pile. You can use a heavy garden rake's back instead of a squeegee in an emergency—as much water as you can remove from the rug.
You can vacuum the rug with a Shop Vac or another wet-or-dry vacuum, sucking up as much water as you can from it, if you cannot move it to a flat, outdoor surface.
3. The rug is currently damp but not drenched in water. In any way you can, complete the drying. You can let it air dry outside in pleasant weather. Elevate it to allow air to circulate it while drying it indoors in a warm room. It will help to direct a fan to the rug.
4. You can now roll the rug without folding it and stand it on end after squeegeeing or vacuuming it. Have the rug cleaned by a reputable Prescott Valley rug cleaning company as soon as possible?
Get Help From A Reliable Prescott Valley Rug Cleaning Professional
If steps 1-4 are not workable because of the size of the area rug or if you have more severe water damage, call a reputable cleaning service like Arizona Oriental and follow their professional advice for caring for your area rug.
If you search for professional rug cleaning, contact Arizona Oriental & Specialty Rug Care in Prescott or fill in the compact form here for a direct reply.
You can also check out our customer reviews from Birdeye and Yellow Pages
Arizona Oriental & Specialty Rug Care serves Prescott, Prescott Valley, Sedona, Flagstaff, and much of Northern Arizona. We meet the highest standards in professional cleaning of area rugs, with rug wash specialists having earned the highest training, including certification as WOOLSAFE FIBRE CARE SPECIALISTS through the WOOLSAFE ORGANISATION. Such extraordinary certification ensures our client's area rugs receive the highest quality care.
Give us a call for more information on area rug cleaning for bad smells at 928-445-1718, visit our website at www.ArizonaOriental.com, or stop by Monday through Friday 10:00 am to 4:00 pm at our rug washing facility at 565 EZ Street, Prescott, AZ 86301 (pickup and delivery also available). 07-14-2020

Fill In For A Quick Response