In the past, some hooked, needlepoint, and pile rugs used jute as their base fiber. However, jute is again popular in the rug industry and has become a popular fiber, mainly in Indian-made rugs.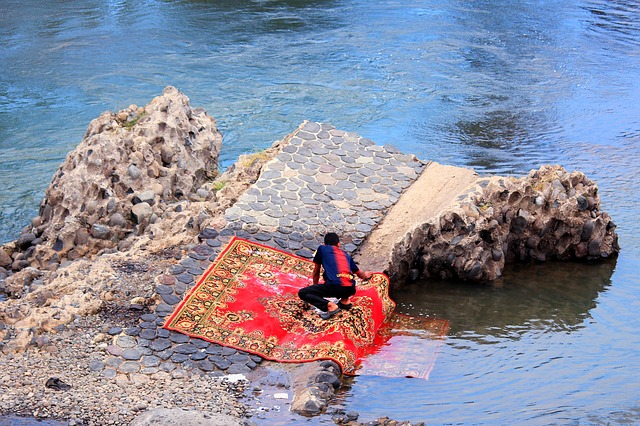 Hi all, it's Ruthie with Arizona Oriental & Specialty Rug Care here in Prescott, AZ.
Jute is now used as a face fiber and foundation fiber. From the retailer's perspective, jute rugs offer two key benefits: the jute plant produces fiber quickly and inexpensively.
Jute has significant drawbacks for the cleaner and owner as the fiber is not strong or straightforward to clean.
Most jute rugs become "disposable rugs if placed in high-traffic areas."
Even though these rugs are advertised as "eco-friendly," they end up in landfills more quickly than regularly woven rugs, which are not exceptionally eco-friendly. Here's how professional rug cleaners: Arizona Oriental understands and cares for jute rugs.
Jute Rug Drawbacks And How To Fix Them
The most common challenges for professional rug cleaners that come from jute rugs and how to handle them are:
Water Discolors Jute
Professional carpet cleaners who have ever seen wall-to-wall wool carpet woven on a jute backing know how hazardous this situation may be. Unfortunately, carpet cleaners rarely translate into effective rug cleaners.
Jute Base Browning
Too much water on jute can turn white wool brown. Since rugs must be washed to clean, this might pose a difficulty.
Some rug cleaners choose to vacuum and low-moisture cleaning if the rug isn't significantly dirty.
Some cleaners wash and dry highly filthy jute rugs with an acid rinse to avoid browning. Arizona Oriental is an expert at washing and drying many rugs and has spent years perfecting techniques for washing and drying.
If a cleaner has a drying platform, the rug can lie face up with warm, dry air running underneath to wick moisture to the back.
Jute becomes brittle.
Being an extremely absorbent fabric, jute will eventually dry rot if it is kept wet for an extended period. In addition, the jute loses strength as it ages because it dries out and becomes brittle.
This can be seen in old hooked and needlepoint rugs where the jute foundation splits and breaks in high-traffic regions and around the folded edges. In addition, the jute used as the base in hand-hooked and rag rugs created between the two world wars frequently falls apart.
The foundation threads split and shred, while the facial fibers (wool and cotton) remain undamaged.
These rugs must be removed from the floor when their foundation deteriorates, or they will keep falling apart. Other means to showcase them must be found.
Get Help With Jute Rugs and Expert Prescott Rug Cleaner
Suppose you need professional rug cleaning, no matter the material. In that case, you can contact Arizona Oriental & Specialty Rug Care in Prescott or fill in the compact form here for a direct reply.
You can also check out our customer reviews from Birdeye and Yellow Pages
Arizona Oriental & Specialty Rug Care serves Prescott, Prescott Valley, Sedona, Flagstaff, and much of Northern Arizona. We meet the highest standards in professional cleaning of area rugs, with rug wash specialists having earned the highest training, including certification as WOOLSAFE FIBRE CARE SPECIALISTS through the WOOLSAFE ORGANIZATION. Such extraordinary certification ensures our client's area rugs receive the highest quality care.
Call us for more information on area rug cleaning at 928-445-1718, visit our website at www.ArizonaOriental.com, or stop by Monday through Friday from 10:00 am to 4:00 pm at our rug washing facility at 565 EZ Street, Prescott, AZ 86301 (pickup and delivery also available). 07-14-2020

Fill in for a fast response