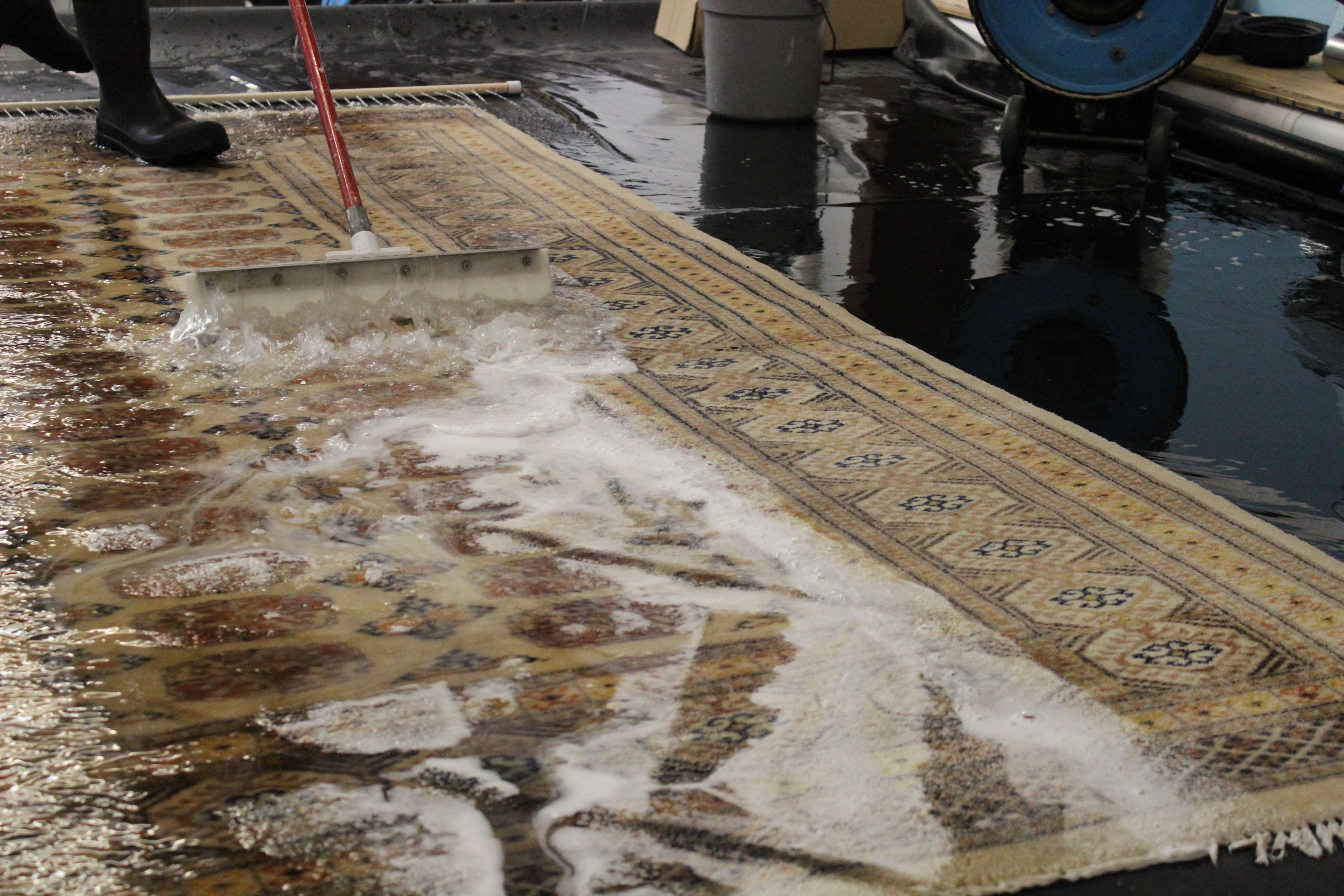 How Can I Clean My Wool Area Rug in My Small Apartment in Sedona AZ?
Cleaning rugs inside your home is such a bad idea on so many levels!
This question was posed recently by Amanda in New York City. It's a pretty common question and I understand why – we spend time and money in making our small living spaces look nice aesthetically but we don't always have the space necessary to clean our area rugs. Amanda's main predicament is that, living in her small NYC apartment, she doesn't have much of an outdoor space to drag her rug out to so she can clean like her research suggests. She also cannot shake it out on the patio because the dry soil would just go over to the neighbors and that isn't very neighborly.
While Amanda vacuums regularly and also spot cleans as necessary, her rug has begun to look dingy and it's time for a cleaning. Amanda is on the right track with regular vacuuming, because this will keep her on top of the dry soil and prevent it from embedding itself in the rug.
Frequent vacuuming can lengthen the time required between professional rug cleanings. However, this dingy appearance of the lighter colors in Amanda's area rug is a strong indication that it is time for a deep, thorough cleaning. And unfortunately, there isn't much Amanda can do to clean it in her apartment.
RUGS REQUIRE PROPER MAINTENANCE AND PROPER CLEANING BECAUSE:
Professional rug cleaning services like Arizona Oriental & Specialty Rug Care in Prescott AZ. Have the proper equipment and cleaning solutions. (home cleaning will never be as thorough)
High quality, woven and hand-knotted wool or silk rugs and even the inexpensive rugs like Amanda has simply require a thorough cleaning from time to time to preserve them!
If you were to clean your rug in your living room, you wouldn't have the tools necessary to combat color bleeding or shrinkage.
The type of floor that your rug sits on can be a game changer. If it is wood or stone, cleaning solutions and the water required to clean a rug can seriously damage floors!
If you live in Sedona and are dealing with a similar situation, the best advice that we at Arizona Oriental can give you is to be very diligent with vacuuming. Like I said – this is a great start and puts you on the right track for proper rug care. When it comes time for a deep cleaning, you need to turn to a professional rug cleaning service such as Arizona Oriental. Our thorough process includes dusting (removal of dry soil) and matching each rug to a cleaning method and cleaning solutions that are specific to your rug's fibers and are specially designed to care for your rug's fibers.
Here's my suggestion to Amanda and all of my readers: skip out on trying to clean your rug in your home on your own. Instead, receive an estimate from a professional rug cleaning service to take care of your rug.
Amanda described the inconvenience of removing her rug from her apartment and how difficult it would be – and I understand that! There are many good professional rug cleaning services in New York City and all across the country, however. Arizona Oriental & Specialty Rug Care understands the needs and concerns of our consumers – which is why we offer a pick-up and delivery service that even includes moving furniture before and after we come and get your rug. Our technicians will ensure that your rug is right where it was to begin with and under the right furniture. We want our clients to have the best experience possible from start to finish.
I hope the value in having your fine rugs professionally cleaned is clear to you. Even if you have an inexpensive area rug, it too needs to be taken care of and professionally cleaned.
Especially if:
The rugs were purchased to compliment the décor in your home
Are in good condition
Hold a special sentimental meaning to you
Trust me – it is worth it to get your rug well taken care of.
Till next time, enjoy your beautiful art for your floor and remember a clean rug is a rug that can last you a lifetime!
Arizona Oriental & Specialty Rug Care serves Prescott, Prescott Valley, Sedona and much of the Northern Arizona areas. We meet the highest standards in professional cleaning of area rugs with rug wash specialists having earned the highest training, including certification as WOOLSAFE FIBRE CARE SPECIALISTS through the WOOLSAFE ORGANISATION. Such extraordinary certification ensures the area rugs of our client's receive the utmost in care.
Call us for additional information on why cleaning your rug at home is a bad idea and quotes at 928-445-1718, visit our website at www.ArizonaOriental.com, or stop by Monday through Friday 10:00 am to 5:00 pm at our rug washing facility at 565 EZ Street, Prescott, AZ 86301 (pick-up and delivery also available).

Cleaning Rugs In Your Home Is Such A Bad Idea On So Many Levels!