As a leading provider of specialty rug care in Prescott Valley, AZ, Arizona Oriental is the trusted choice for rug owners who demand the highest level of expertise and care.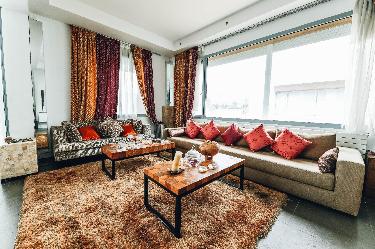 Hi there! It's Ruthie with Arizona Oriental & Specialty Rug Care coming from Prescott, AZ.
Our team of experienced and skilled professionals is well-versed in the intricacies of rug cleaning, and we take pride in providing exceptional services tailored to meet each rug's unique needs.
Regarding your valuable and cherished rugs, don't settle for just any rug cleaner - choose Arizona Oriental for top-notch care that exceeds your expectations.
Unmatched Quality in Rug Cleaning Services
At Arizona Oriental, we understand your rugs are not just floor coverings but works of art that hold sentimental and monetary value.
That's why we commit to delivering unmatched quality in our rug cleaning services. Our state-of-the-art facility is equipped with innovative technology and industry-leading techniques that allow us to clean rugs of all types, sizes, and materials with precision and care. From delicate silk to durable wool rugs, our team has the expertise to restore their beauty and extend their lifespan.
Specialized Solutions for Specialty Rugs
Unlike many generic rug cleaners, Arizona Oriental specializes in the care of specialty rugs, including Oriental, Persian, antique, and handmade rugs.
Our team understands the unique characteristics of these rugs and the specific challenges they present, like delicate fibers, intricate patterns, and natural dyes. With our specialized solutions, we can effectively remove dirt, stains, and odors, causing no damage to your precious rugs. Our meticulous approach ensures your rugs receive the attention and care they deserve, resulting in stunning results that speak for themselves.
Trustworthy and Transparent Rug Cleaning Process
When you entrust your rugs to us, know they are safe. Our team follows a comprehensive and meticulous cleaning process, including thorough inspection, gentle dusting, customized cleaning, and careful drying.
We only use eco-friendly and safe cleaning agents specially formulated for rugs, and our team adheres to the highest industry standards to ensure the best possible results.
Experience Unmatched Rug Care with Arizona Oriental
If you're seeking top-notch specialty rug care in Prescott Valley, AZ, don't settle for anything less than the best.
Click now to book your rug cleaning appointment and enjoy fresh, clean, and vibrant rugs that will elevate your home's interior aesthetic.
If you're seeking professional rug cleaning services in Prescott Valley, AZ, look no further than Arizona Oriental & Specialty Rug Care.
Arizona Oriental & Specialty Rug Care serves Prescott, Prescott Valley, Sedona, Flagstaff, and many Northern Arizona areas.
We meet the highest standards in professional cleaning area rugs, with rug wash specialists having earned the highest training, including WOOLSAFE FIBRE CARE SPECIALISTS certification through the WOOLSAFE ORGANIZATION. Such extraordinary certification ensures our client's area rugs receive the highest quality care.
Call us for more information on cleaning wool rugs and stopping allergies at 928-445-1718, visit our website at www.ArizonaOriental.com, or stop by Monday through Friday 10:00 am to 4:00 pm at our rug washing facility at 565 EZ Street, Prescott, AZ 86301 (pickup and delivery also available).

Fill in for a Direct Response