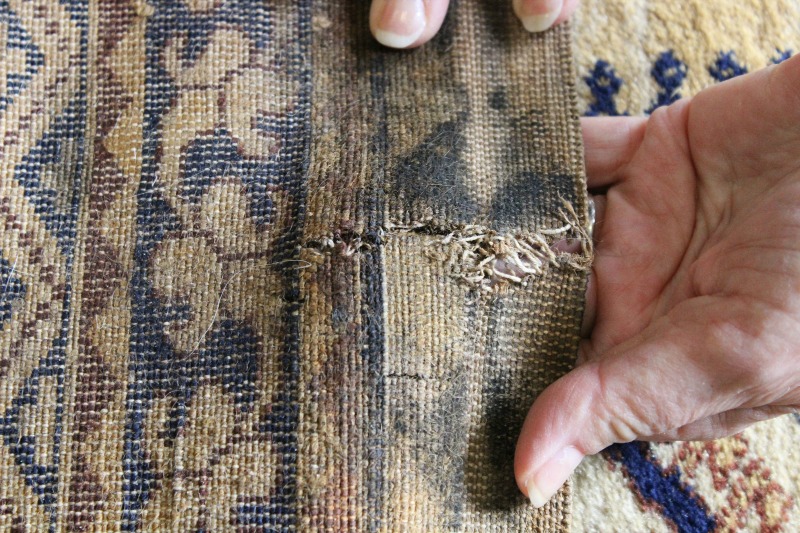 Hi there! It's Ruthie with Arizona Oriental & Specialty Rug Care coming from Chino Valley, AZ.
We take rug cleaning seriously. For this reason, it's never a good sign if your rug is stiff or brittle.
Sadly, this is comparable to dry rot, which isn't a pleasant condition for rugs.
Dry rot means your rug's fibers are weakened and decaying and most commonly found in the cotton base fibers of your rug. Unfortunately, this disorder is one step away from rips, tears, and holes. Both excessive moisture and dry conditions will cause dry rot in your old curtains or furniture.
Arizona Oriental has seen rugs subjected to pets urinating on them repeatedly and as urine is acidic and made up of moisture-holding urine salt crystals, harmful to fabrics in tugs
Such salt crystals allow rug fibers to stay wet longer than they otherwise would causing dry rot problem.
It would help if you had the right urine-neutralizing remedies, the right equipment, and the correct rug cleaning technique to flush those nasty salt crystals from your rug.
Unfortunately, we cannot assess the full extent of dry rot until cleaning your rug. A hole is the only way to tell, yet we'll wash and handle your rug, then flush out the rug's urine salt crystals.
Another cause of dry rot is Sun damage, so take care to keep curtains closed when you're not at home to protect your rug and upholstery.
Depending on the extent of the dry rot damage done, rug cleaning and repair of rugs that have suffered from dry rot can get costly fast.
Indeed, even correcting can be impossible if the damage is widespread across the rug region.
Expert weavers need to reweave the base and face fibers in affected areas, a time-consuming method for which these expert weavers charge premium rates.
Arizona Oriental & Specialty Rug Care in Prescott AZ works closely with rug weavers to provide all kinds of repairs, from basic to more complicated, as dry rot restore.
We give our customers' information cards about rug cleaning and dry rot and several other topics about the proper care of area rugs at Arizona Oriental's rug washing facility.
We invite you to stop and look at our collection of these information cards, or even to clean your area rugs for a free estimate!
Till next time, enjoy your beautiful art for your floor and remember a clean rug is a rug that can last you a lifetime!
Suppose you are searching for professional rug cleaning for brittle fibers or urine cleaning. In that case, you can contact Arizona Oriental & Specialty Rug Care in Prescott or fill in the compact form here for a direct reply.
You can also check out our customer reviews from Birdeye and Yellow Pages
Arizona Oriental & Specialty Rug Care serves Prescott, Prescott Valley, Sedona, Flagstaff, and much of the Northern Arizona areas. We meet the highest standards in professional cleaning of area rugs with rug wash specialists having earned the highest training, including certification as WOOLSAFE FIBRE CARE SPECIALISTS through the WOOLSAFE ORGANIZATION. Such extraordinary certification ensures our client's area rugs receive the highest quality care.
Call us for more information on area rug brittleness, rug cleaning and urine or repairs at 928-445-1718, visit our website at www.ArizonaOriental.com, or stop by Monday through Friday 10:00 am to 4:00 pm at our rug washing facility at 565 EZ Street, Prescott, AZ 86301 (pickup and delivery also available). 07-14-2020

Fill in the form for a direct reply