What can remove the rubber smells from my rug? Cleaning rubber-smelling rugs are just another day in the life of those of us at Arizona Oriental & Specialty Rug Care here in Prescott, AZ.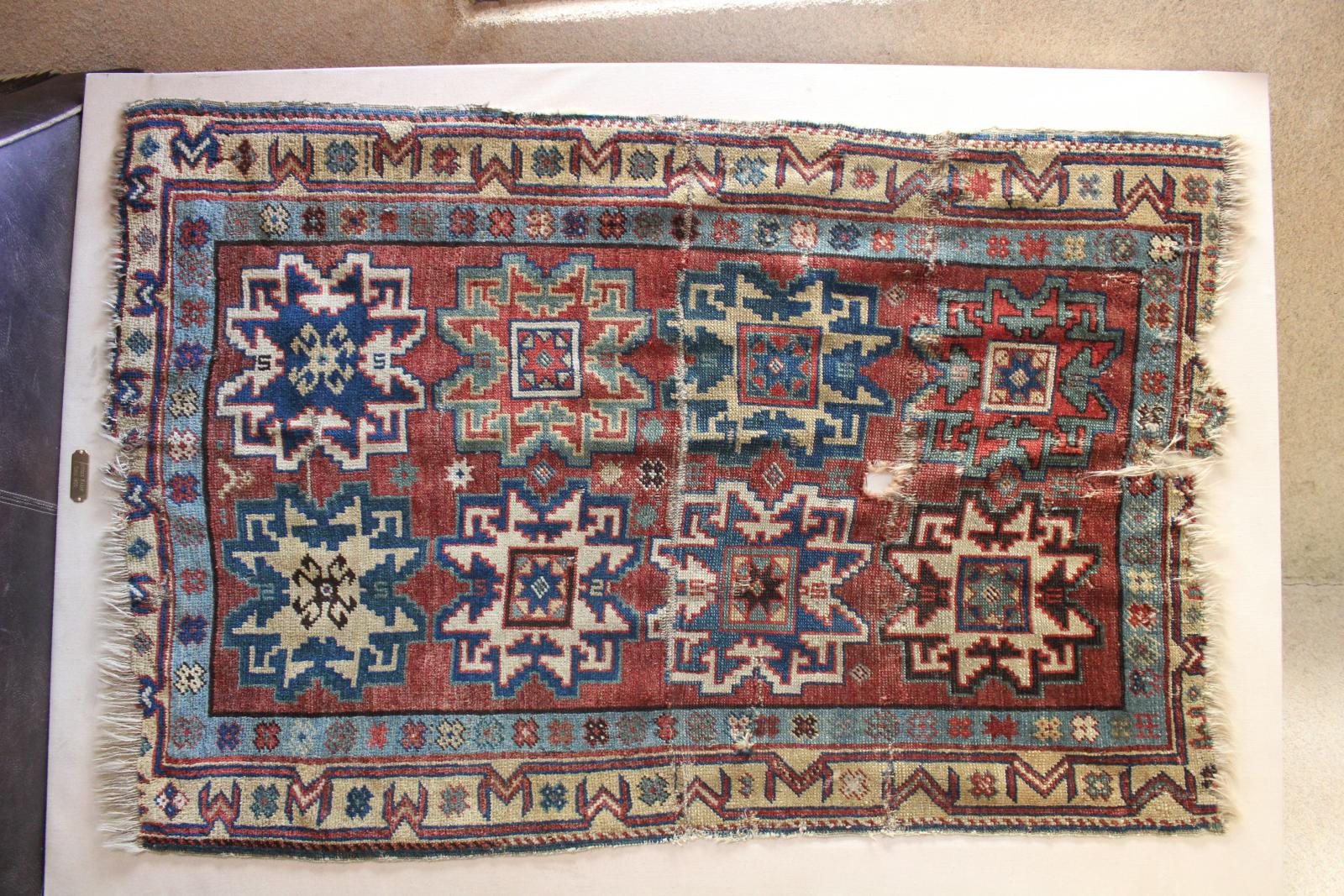 Hi, it is Ruthie with Arizona Oriental. Quite a few consumers ask me if we can eliminate the odors in their area rug with an expert rug cleaning. The answer is usually yes for Prescott area rug cleaning.
It's likely that the tufted area rug you bought, which has a fabric backing that is glued on, will smell bad, like burnt rubber or gasoline.
This is a result of the latex used to laminate the carpet's textile backing to the back. Natural latex has a smell that might remain for a few weeks or even years and can be stronger than synthetic latex.
Rubber Lates Odors Are Exclusive To Tufted Rugs
Punching loose wool tufts through a base cloth is how this rug is made (instead of knotting the yarns individually). The rug is held together by a layer of latex glue, and to finish the look, a piece of monkscloth is thrown over the back.
Depending on the maker's choice of adhesive, odors may appear years or even a short time after the rug was acquired.
A room can soon become stale due to the rubbery latex smell that low-quality glue generates. Not a smell you want coming from a rug you like having in your home, and certainly not one you want!
Unfortunately, scents cannot be removed entirely by rug washing alone.
The construction of the rug is at issue. Arizona Oriental may quickly get rid of other aromas; however, odors produced by the glue holding the rug together are regrettably unavoidable.
Older tufted carpets that exhibit evidence of backing detachment may have the current backing removed, and the old, inferior glue scraped away (pieces of it are lifting).
After that, the rug will be cleaned, a fresh coat of superior glue will be put down, and a fresh piece of monkscloth will be placed over the back. The number of doors can be significantly decreased by removing the old glue; it won't eliminate them, but it can help.
Another thing is that such conditions can discolor the floors underneath your rug. Call us or visit our rug cleaning facility if your area rug has a strange stench that you can't identify. Don't let your unpleasant rug bring you down or ruin your floors.
Till next time, enjoy your beautiful art for your floor, and remember, a clean rug is a rug that can last you a lifetime!
Get Help To Clean and Fix With Prescott Oriental Rug Care
Suppose you are searching for professional rug cleaning. In that case, you can contact Arizona Oriental & Specialty Rug Care or fill in the compact form here for a direct reply.
Arizona Oriental & Specialty Rug Care serves Prescott, Prescott Valley, Sedona, Flagstaff, and many Northern Arizona areas.
We meet the highest standards in professional cleaning of area rugs, with rug wash specialists having earned the highest training, including certification as WOOLSAFE FIBRE CARE SPECIALISTS through the WOOLSAFE ORGANIZATION. Such extraordinary certification ensures our client's area rugs receive the highest quality care.
Call us for more information on cleaning wool rugs and stopping allergies on 928-445-1718, visit our website at www.ArizonaOriental.com, or stop by Monday through Friday 10:00 am to 4:00 pm at our rug washing facility at 565 EZ Street, Prescott, AZ 86301 (pickup and delivery also available). 07-14-2020

Fill in for a fast response